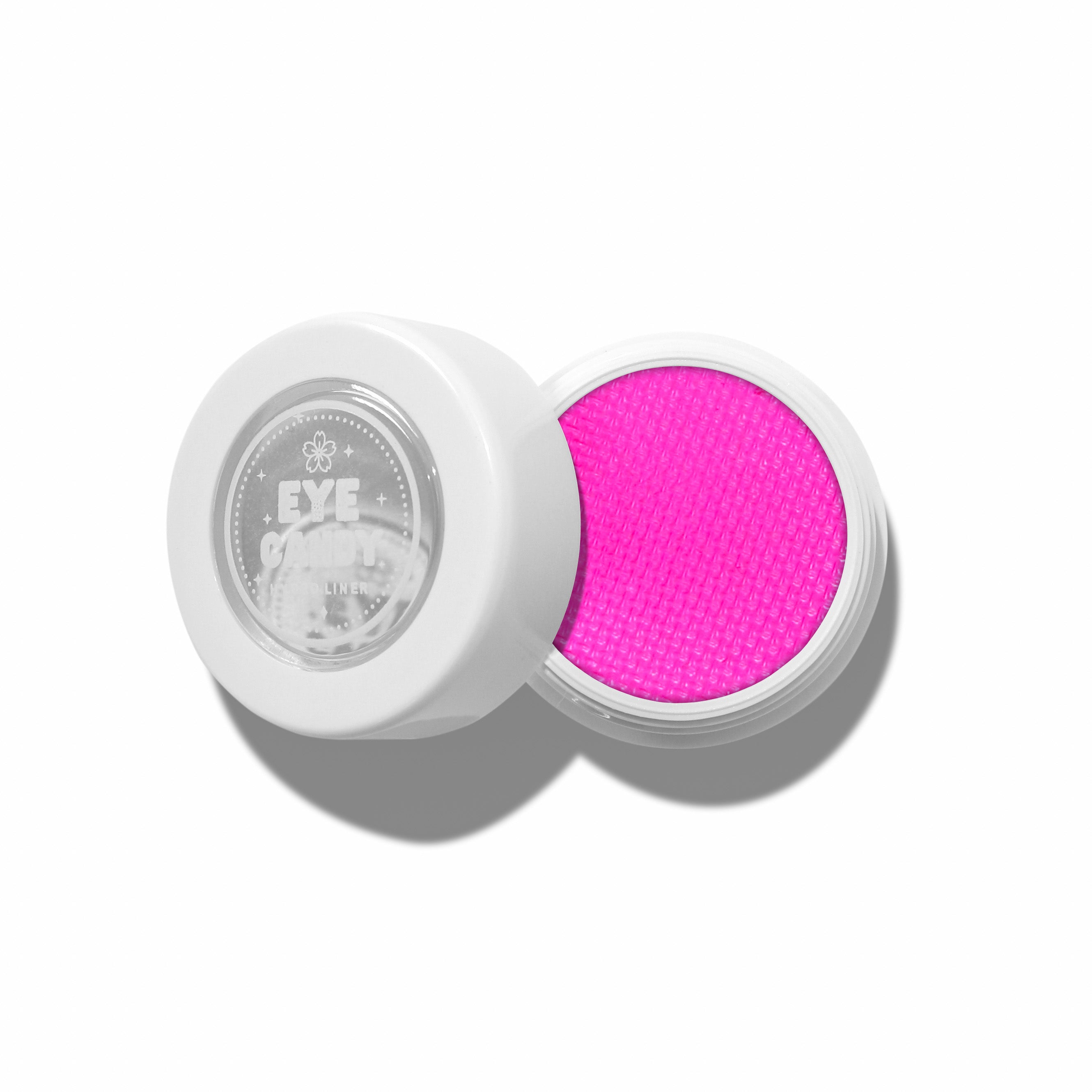 Description
Introducing Our "Eye Candy" Hot pink Lollipop Hydro Liner (glows under UV light) Water-activated eyeliner. This Eyeliner is activated by water and dries down matte. This serves as a multiusage product, this eyeliner can be used as eyeliner or face paint, let your creativity flow and add a little bit of "sugar" to any makeup looks with our Eye Candy Hydro liners. 
Product shelf life: 24 Months
Ingredients
Ingredients: Water (Aqua), Glycrein, Acacia Senegal Gum, Polysorbate-20, Mica, Talc, Calcium, Carbonate, Methylparaben.
May contain: Yellow 11 (CI 77492), Iron Oxides (CI 77499) Oxides, Titanium Dioxide (CI 77891) FDC Blue No. 1 (3844459) FDC Red (25956176) FDC yellow No.5 (1934210) DC Yellow No. 7 (45250)
How to use
 How to use it:
1. Take a drop or two of water
2. Add it to the container or the lid
3. Swirl your eyeliner brush, mixing the water with the eyeliner pigment
4. Apply to your desired area 
🍬 Extra Details: This eyeliner is water activated, meaning it applies with water and also comes off with water as well - For the best experience, Avoid water activities while wearing these eyeliners. 
Shipping
Processing Times: Please allow 1-4 business days (not including weekends or holidays) to process your order. Expect processing and shipping to be at least 3 - 10 days For US orders, and 7-21 days for international orders.

Note: Please be sure to check that you have the correct name and address when making a purchase. If order is placed and shipped with an incorrect address, customers are responsible for covering the reshipment fee. By placing an order, you agree to this policy. 
Import and Duty Fees: All international orders are subjected to pay Import and/ or duty Fees, which is determined by the country of import, primarily based off the order value and the country's import and duty laws. Import and duty fees are not included in your Yvaexpression's order total. Yvaexpressions is not reposnble for import/duty fees, and all fees must be paid by parcel recipient. When placing an International order with Yvaexpressions, you are agreeing with to this policy.
Eye Candy: Hot pink Lollipop Hydro Liner (UV)
A.M.A.Z.I.N.G!
The pigments are incredible! I couldn't believe how they completely stay on, despite trying hard to smudge it! It is awesome! Colors as shown, very bright, first quality ingredients perfect for my sensitive skin. I'm very impressed with it and totally recommend it!
I bought Hot Pink, Lime and Marshmallow White.
Great!
I love it so so so much! But I didn't know how to dry it, and accidentally wasted a bunch of product. Don't use q -tips, use a brush!
Eye Candy: Hot pink Lollipop Hydro Liner (UV)