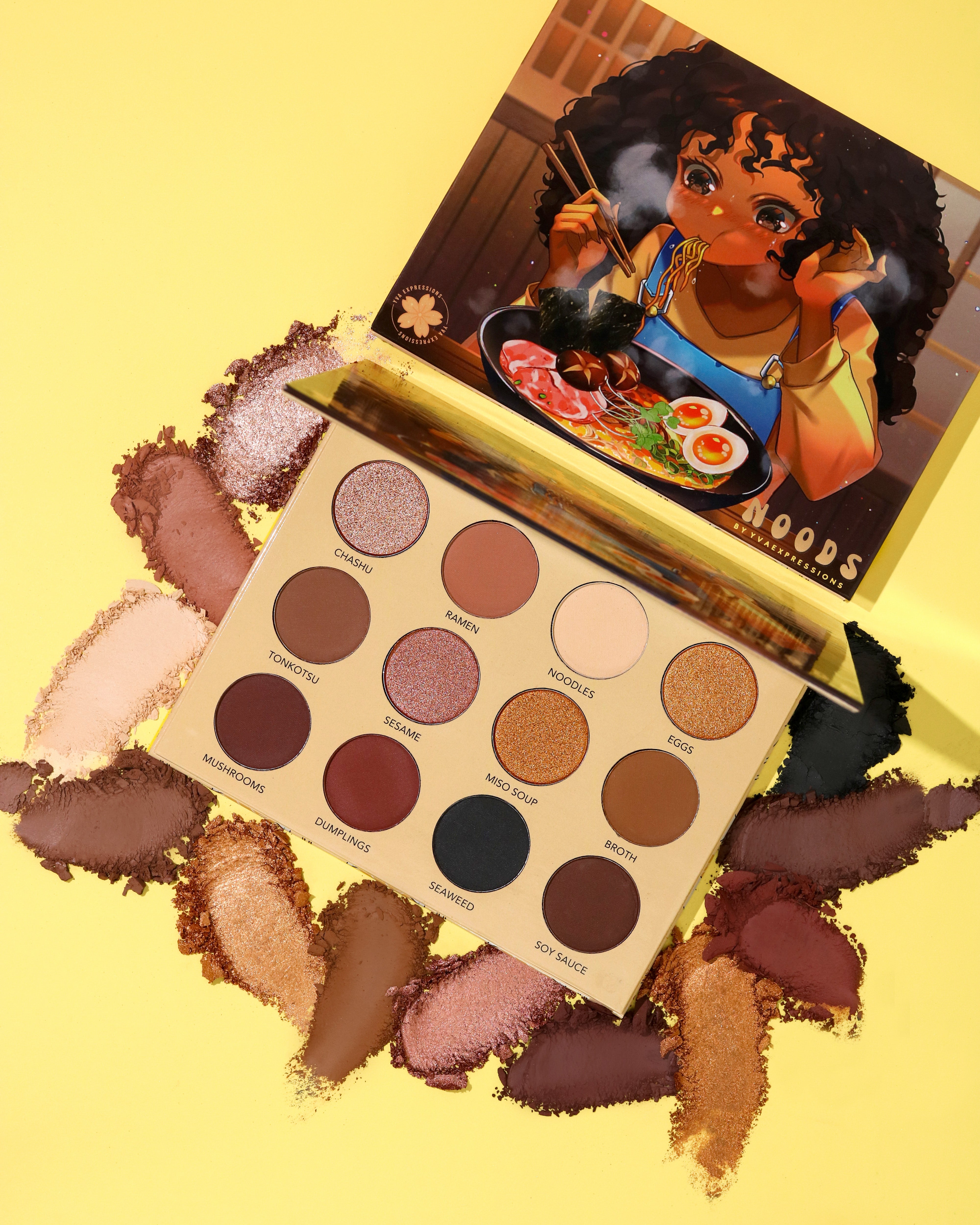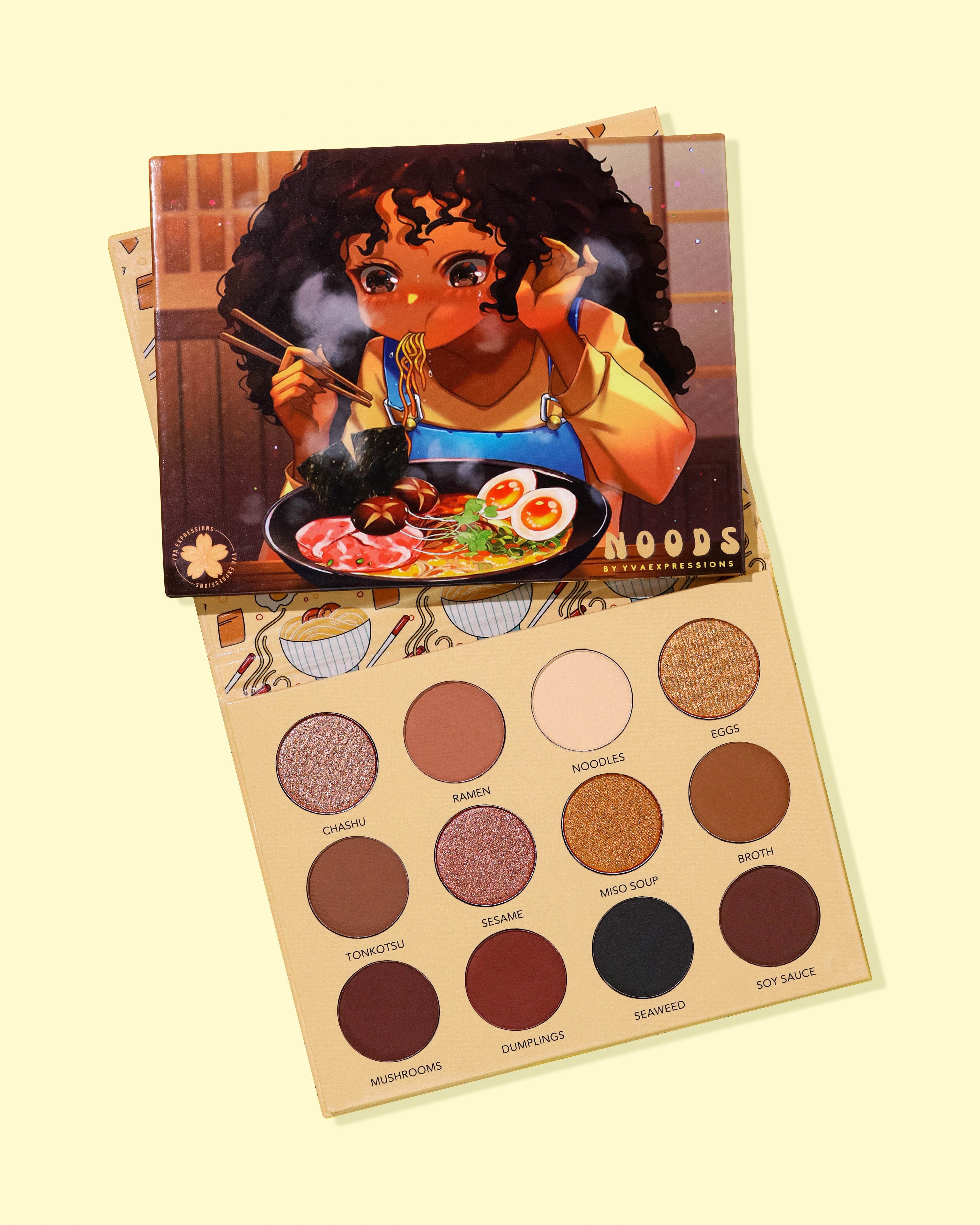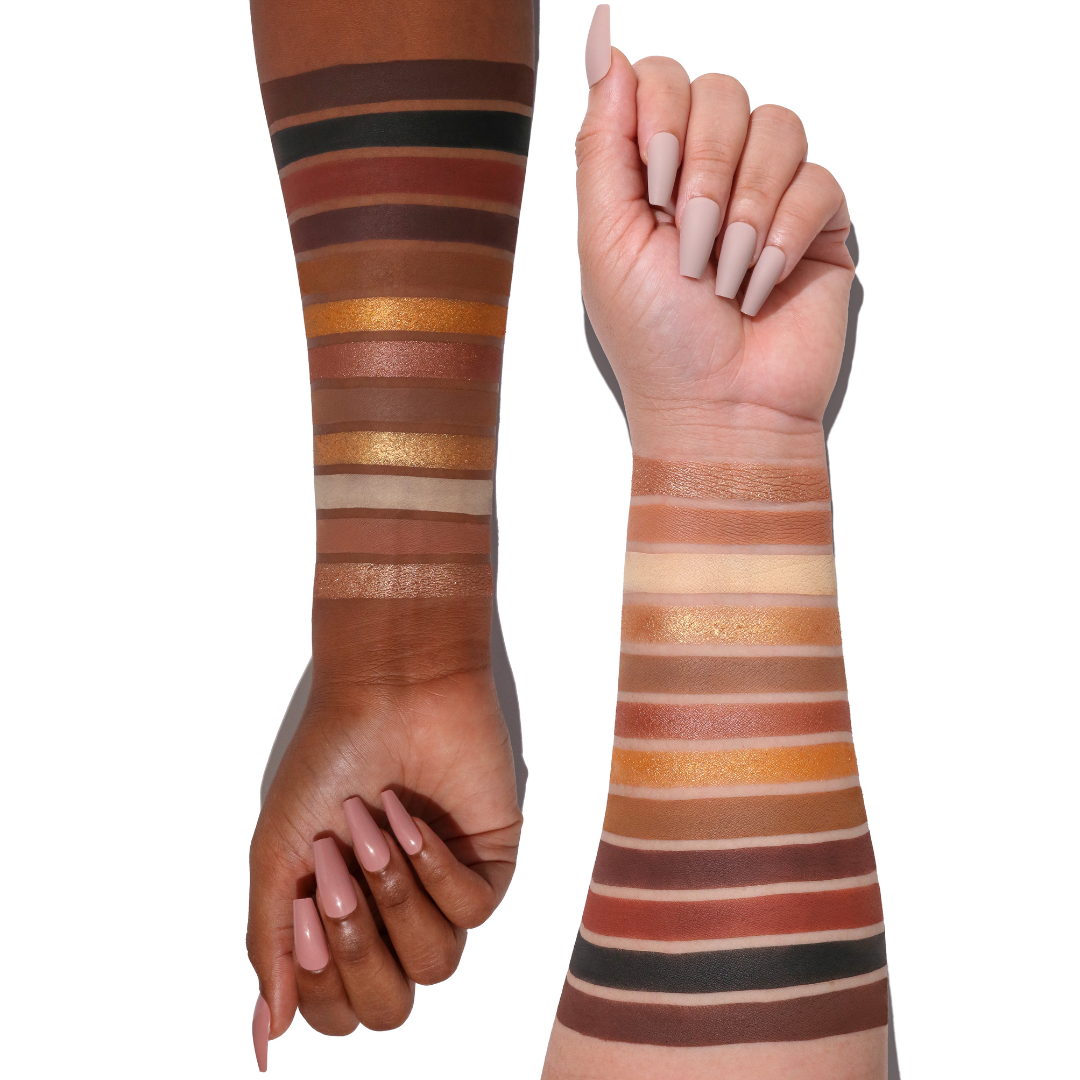 Description
Please Ramen Calm because the noods are here! This tastefully curated 12-pan eyeshadow palette is the perfect recipe for any neutral eye look. Our Noods eyeshadow palette is a vibrant deeply rich neutral palette that includes 8 pigmented matte shades, and 4 buttery shimmers. This eyeshadow palette is inspired by Ramen and these mouth-watering shades (even though they're not edible) are so pigmented, that they hit ya like the first bite of your favorite ramen. One Taste of this palette, and you'll be back for seconds!

Shade Description:

Chashu: Light Brown Shimmer

Tonkotsu: Matte Light Brown

Mushrooms: Matte Brown

Ramen: Matte Light Brown Shade with Slight Orange undertones

Sesame: Brown Shimmer Shade

Dumplings: Matte Brown Shade with Red undertones

Noodles: Matte Beige

Miso Soup: Goldish/orange Metallic Shimmer

Seaweed: Matte Black

Eggs: Gold Shimmer

Broth: Matte Caramel brown

Soy Sauce: Matte dark brown

Shades: Neutral Browns, Black, Beige, Browns

Finish: Matte, Shimmers, Metallic 
Noods Eyeshadow palette by Yva Expressions. All rights reserved
Shipping
Shipping Processing times:
We process orders in 1-4 Business days. Not including weekends.
For shipping inquiries contact:
Yvaexpressions@gmail.com
How long do preorders take?
Preorder times all vary, be sure to read the description of the product to know when it is estimated to be shipped out. Usually it can take up to 2-3 weeks to ship preorders, though sometimes longer. Every preordered item will have an estimated time in the description, be sure to read that before checking out as preorder processing times are not the same as regular processing times.
What do I do when an order is marked as delivered but I didn't receive it?
Contact your local USPS carrier that your product was shipped out with. 9 times out of 10 they have your order and just havent actually delivered it out yet. Please keep in mind that we are not responsible for the USPS mistakes, or delays. 
It's the cover art for me!
Beautiful palette
The Noods palette was just amazing. The colors are so pigmented and the shimmer is on point! Can't wait to add more to my collection 💜
It's good but it does have a bit of pan fallout.
Just ADORBS *-*
This palette's cover art was so cute I just had to get it. The colors inside are gorgeous and pretty much wat I use on a day to day basis.