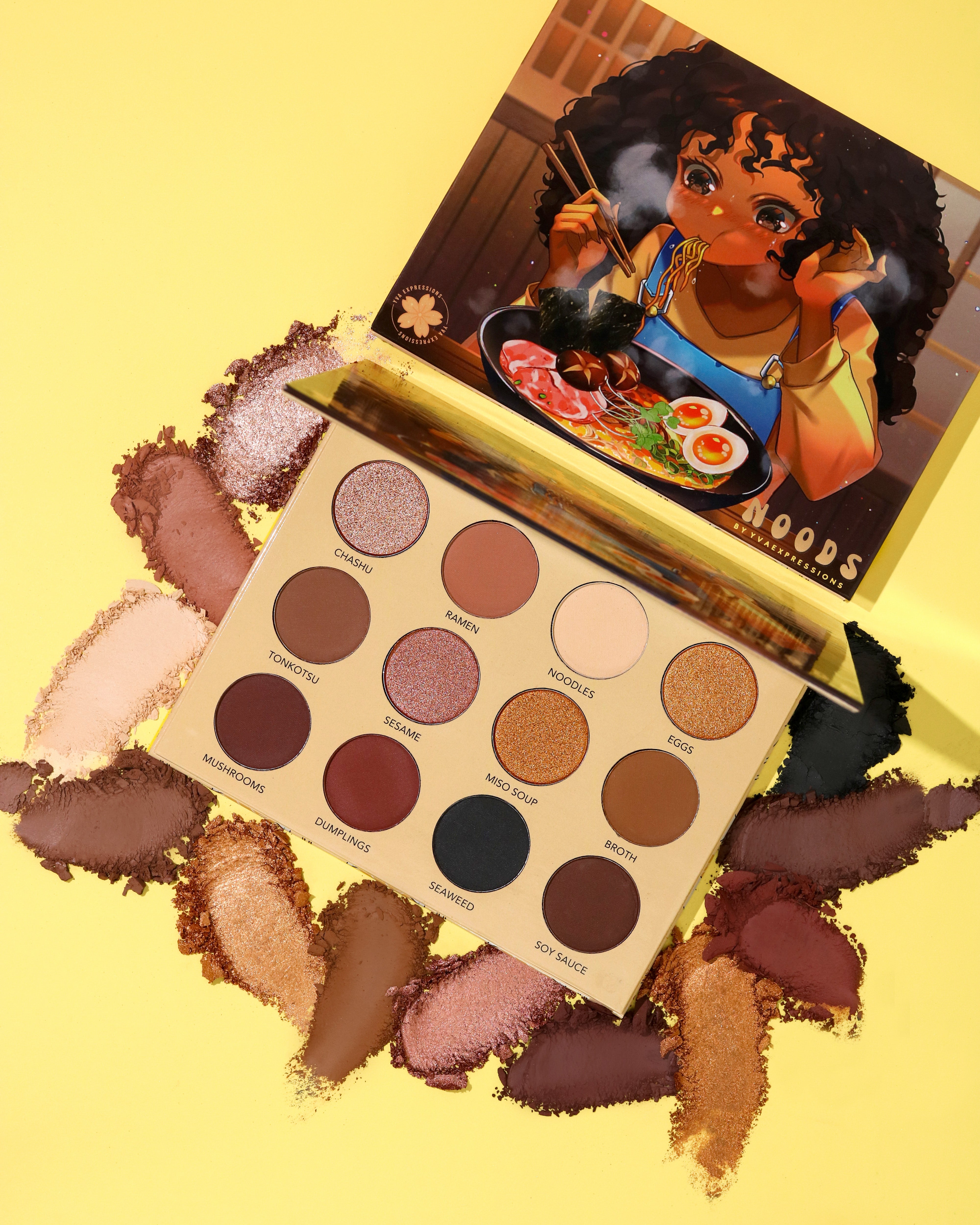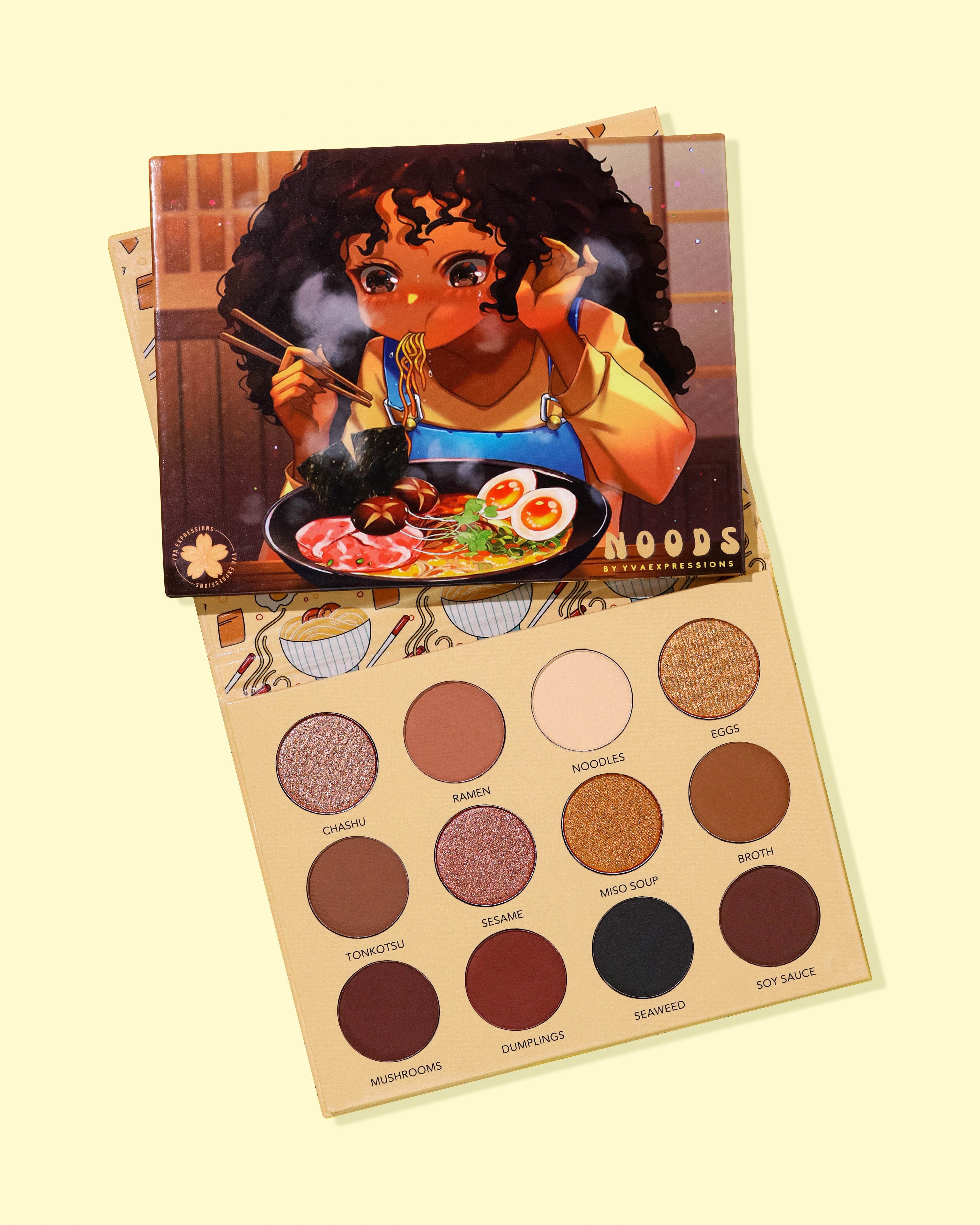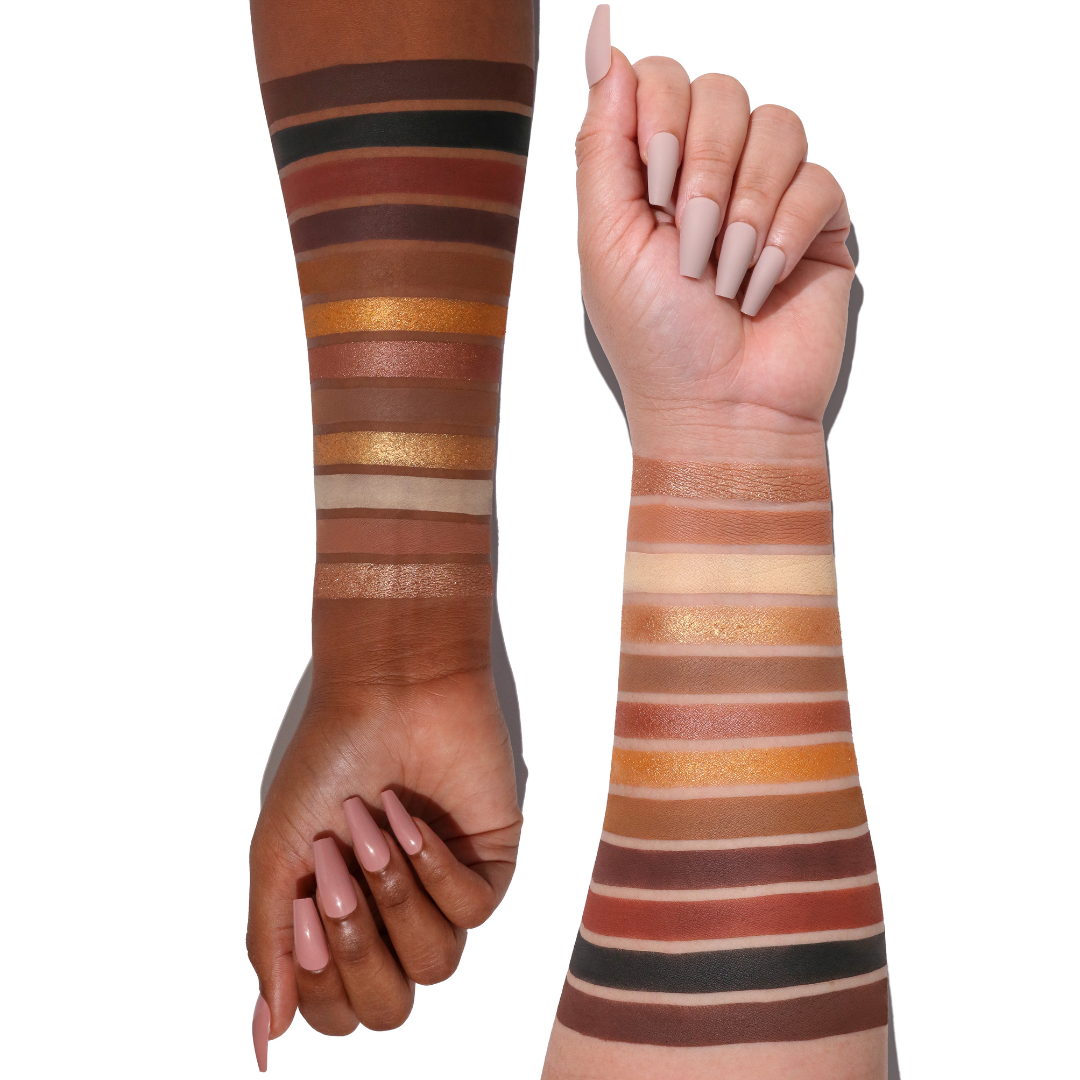 Description
Please Ramen Calm because the noods are here! This tastefully curated 12-pan eyeshadow palette is the perfect recipe for any neutral eye look. Our Noods eyeshadow palette is a vibrant deeply rich neutral palette that includes 8 pigmented matte shades, and 4 buttery shimmers. This eyeshadow palette is inspired by Ramen and these mouth-watering shades (even though they're not edible) are so pigmented, that they hit ya like the first bite of your favorite ramen. One Taste of this palette, and you'll be back for seconds!

Shade Description:

Chashu: Light Brown Shimmer

Tonkotsu: Matte Light Brown

Mushrooms: Matte Brown

Ramen: Matte Light Brown Shade with Slight Orange undertones

Sesame: Brown Shimmer Shade

Dumplings: Matte Brown Shade with Red undertones

Noodles: Matte Beige

Miso Soup: Goldish/orange Metallic Shimmer

Seaweed: Matte Black

Eggs: Gold Shimmer

Broth: Matte Caramel brown

Soy Sauce: Matte dark brown

Shades: Neutral Browns, Black, Beige, Browns

Finish: Matte, Shimmers, Metallic 
Noods Eyeshadow palette by Yva Expressions. All rights reserved
Shipping
Processing Times: Please allow 1-4 business days (not including weekends or holidays) to process your order. Expect processing and shipping to be at least 3 - 10 days For US orders, and 7-21 days for international orders.

Note: Please be sure to check that you have the correct name and address when making a purchase. If order is placed and shipped with an incorrect address, customers are responsible for covering the reshipment fee. By placing an order, you agree to this policy. 
Import and Duty Fees: All international orders are subjected to pay Import and/ or duty Fees, which is determined by the country of import, primarily based off the order value and the country's import and duty laws. Import and duty fees are not included in your Yvaexpression's order total. Yvaexpressions is not reposnble for import/duty fees, and all fees must be paid by parcel recipient. When placing an International order with Yvaexpressions, you are agreeing with to this policy.
Super cute and exactly what I was as looking for
I've been looking at this brand for over six months, and I finally took the plunge and bought this palette. Not only did this pallet come here safely, but it turned out exactly like the picture. I'm always looking for a palette with a lot of neutrals that appear well on my skin tone and this palette delivered it. Will buy again.
Super cute palette
This is such a cute pallet. I love all of the neutral shades and the quality of the shadows are great!
Love The Everyday-ness
I really like how easy it is for the colors to apply. I chose this palette because I knew I'd be able to mix and match these colors for being more bold but also more natural for work. It also feels good to get ready in the morning and have the cute art to look at. Starts my day with a smile.
The perfect noods
I am in love with this palette. The art and design is so cute and the shades are just perfect for an everyday look. I'm obsessed, definitely a favorite 😍. Cannot wait to purchase more!
So pigmented
I love this palette I already own the wisteria palette but was looking for something more neutral had to grab this as soon as I saw it colors are beautiful and smooth