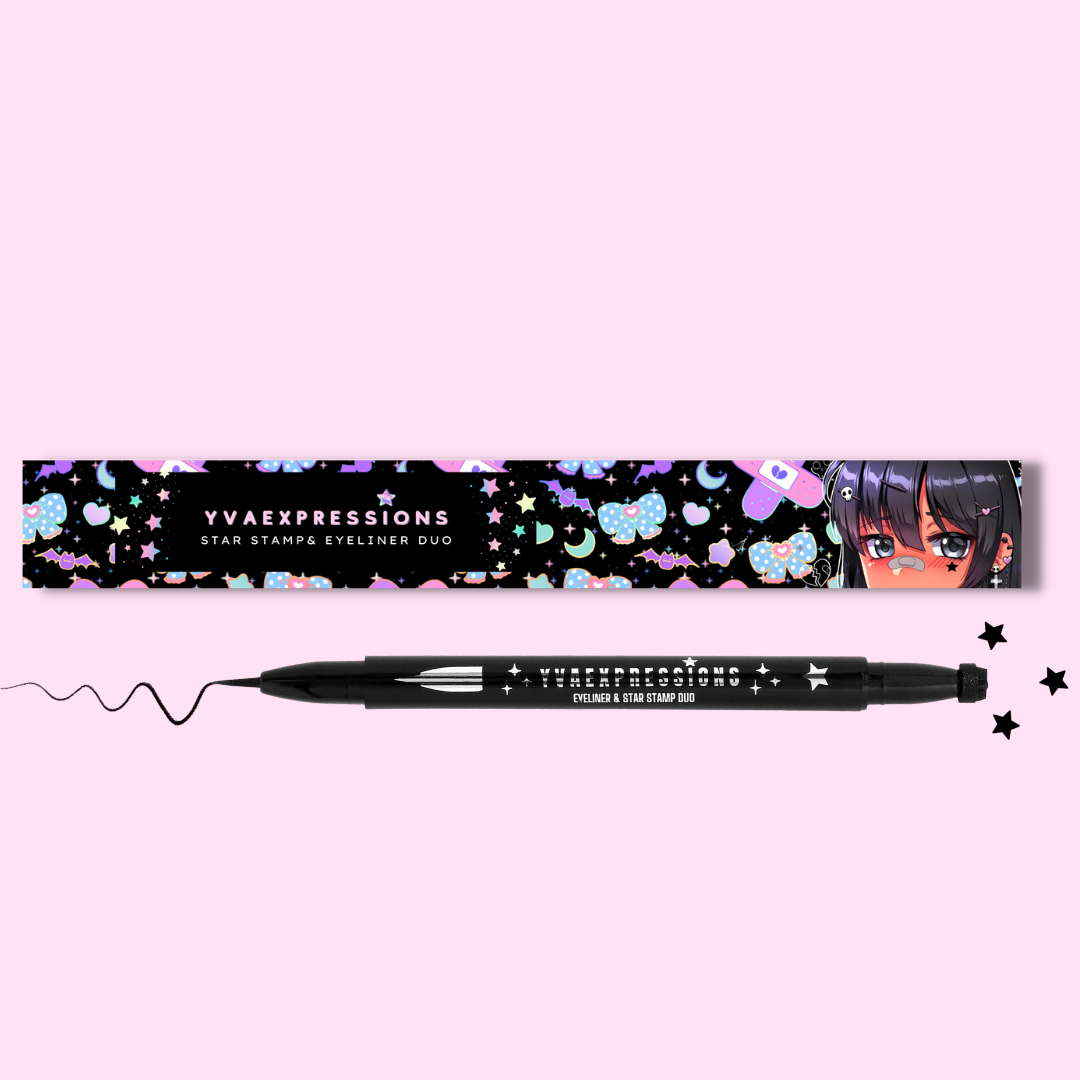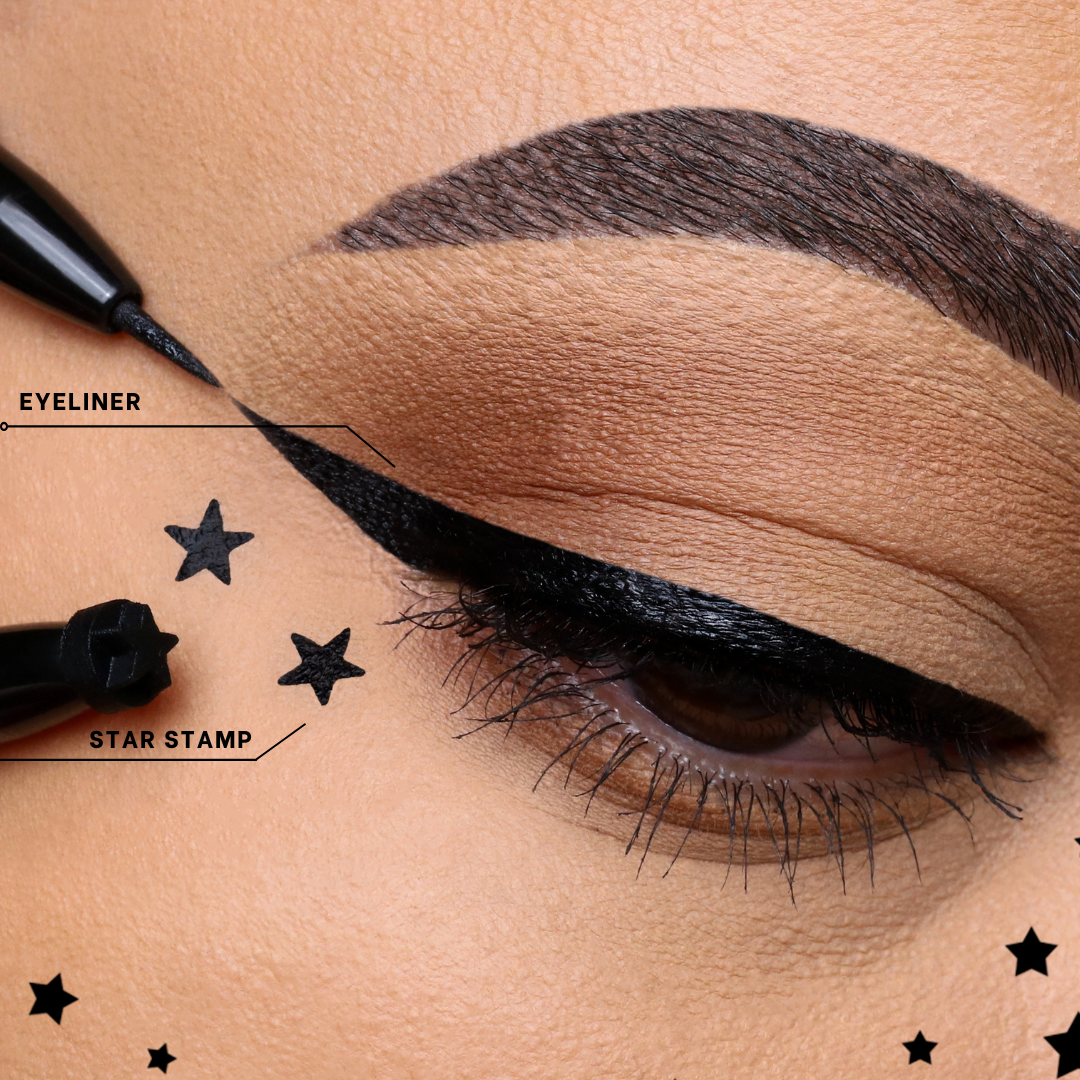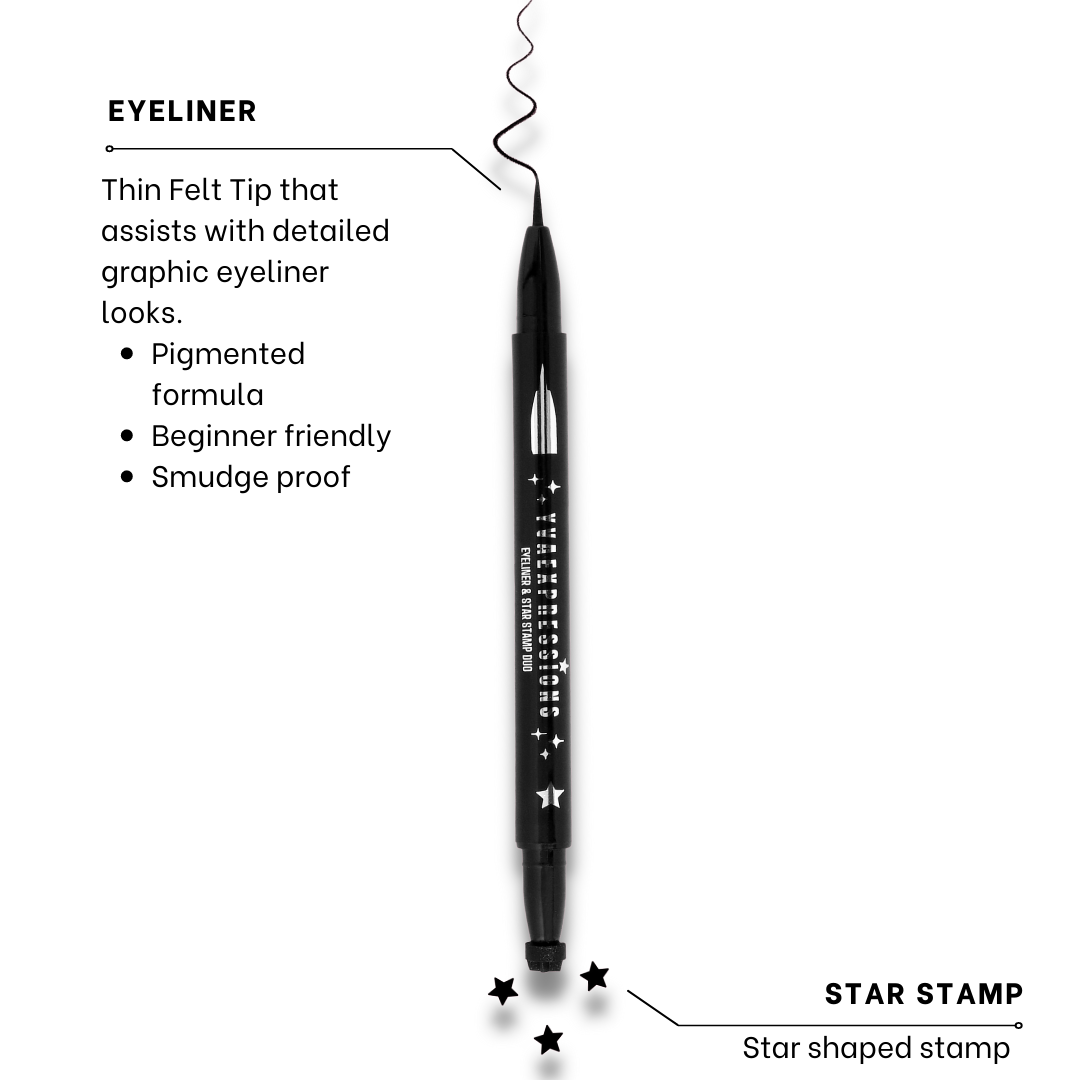 Description
♡︎ This eyeliner is a heart stamp as well as an eyeliner. 

♡︎ This eyeliner is not waterproof like our kitty eyeliner, this is just simply an eyeliner.
♡︎ Ingredients: Please read ingredients before purchasing.
Model: @lillyteel on Instagram - using the star stamp eyeliner.
Water, Styrene/Actylates, Copolymer, Ammonium Acrylate, Butylene Glycol 1, 2-Heanediol, Laureth-21, Sodium Dehydroacetate, Phenoxyethanol, Ethylhexygycerin, CI77266
Shipping
Shipping Processing times:
We process orders in 1-4 Business days. Not including weekends.
For shipping inquiries contact:
Yvaexpressions@gmail.com
How long do preorders take?
Preorder times all vary, be sure to read the description of the product to know when it is estimated to be shipped out. Usually it can take up to 2-3 weeks to ship preorders, though sometimes longer. Every preordered item will have an estimated time in the description, be sure to read that before checking out as preorder processing times are not the same as regular processing times.
What do I do when an order is marked as delivered but I didn't receive it?
Contact your local USPS carrier that your product was shipped out with. 9 times out of 10 they have your order and just havent actually delivered it out yet. Please keep in mind that we are not responsible for the USPS mistakes, or delays. 
Star stamp & Eyeliner duo
The best eyeliner ever
I use this eyeliner everyday, it goes on super smooth and is so easy to use. The eyeliner last all day and doesn't budge until I take it off. I've even went swimming in it and it still stayed perfect
Cute
The stamp worked so well and came out super cute! I have used the eyeliner part yet, so that's why I left off a star.
Good Stamp Ok Eyeliner
The stamp works well other than a slightly chipped corner. The eyeliner itself worked great at first but slowly ran out at the tip. The stamp still contains good pigment tho
So cute!
This duo eyeliner is so much better than I expected the eyeliner tip is thin and precise and the stamp is so cute! Also very pigment, dries fairly quickly, and is smudge proof! Very pleased!
Will definitely be ordering again!
I'm typically picky about what brands I use, specifically for eye makeup, and I can say for sure, that I will order more! I love the star stamp, and the eyeliner itself is easy to use, and very pigmented! I highly recommend 🧡